I have just come through some amazing and terrifying moments in southern American history, which only serves to add perfectly to the stunning tales of survival in modernity that you find in my book Wild Willful Heart. What I am going to tell you is no dramatization of events, this was the stark reality. It serves as warning to the complacent, as well as the this-can't happen-to-me people out there. It IS happening all over the world, and no one knows where NEXT is!
Late July, here on the SC coast, we had a sudden 15 days of rain (with one Saturday off) that freaked everyone out, was a real downer trip, and it went into early August before drying out. During that period I noticed that people in public were moody and snapping at one another the more it rained. As a people watcher it was fascinating and disturbing, because it wasn't just the lower mentality types, but folks one would not equate with such rudeness. Yet the torrents ended, and it was the fourth time in four years I have lived here that the Lord stopped it raining before my area flooded. In this type of weather aberration there are always miracles to be recognized. God stopped the rain right before the serious floods came. This rain was a very ominous portent and the beginning of the temporary disruption of our local tourist (20 million visitors yearly) economy for the summer season. It did not end there.
Life went back to normal, sort of, but everyone was talking about rain. Bitching about rain, living in dread of rain…it was everywhere you went. This area is comprised of mostly Christian people of different denominations and many know, as I do, that this time we live in is depicted in Matthew Ch. 24, the winds and seas raging in the end times. You could feel the atmosphere boiling, boiling, and I could sense something was up. The next month after the storm it got really hot and miserable as always down here, and rain was intermittent, with a quick apocalyptic storm here and there of torrential rain that tended to jangle the nerves. These were not like the normal rains. There were odd deep spooky rumblings, utterances anew I cannot recall hearing before, and I am a native Floridian that knows thunder. People were also talking of this. Anyone familiar with the JASON A Youtube channel knows.
During this time I was getting text pics on my phone from one of my best friends, a Phd. anthropologist that recently relocated to Washington State for a job. The pics showed a raging fire threatening his neighborhood where he just closed on a home. He told me that people out there have been burned out 4 times and rebuilt but many are finally looking for other places to move. We wondered why it took 4 times. He will be looking to leave soon as possible, the experience of being at home with smoke like a barbeque raging in the living room for more than a month has proved to be too much. At the same time the central Texas rain and flooding event was beginning.
Then came September and Hurricane Florence. It is funny how you are just sitting there watching TV, a football game, whatever, and the weather news comes in to tell you that a powerful hurricane is on track for your area. This is how it was. Being like Action Jackson, the wife and I immediately went into 3 long days of storm prep, boarding up, putting everything up high, into the attic, off the ground. I parked two of my classic cars illegally on an unfinished bridge trestle hoping I could get back home before they were towed away. Sometimes one has to take chances, and there are no high storage facilities here. My gamble worked.
Between each of these storms I mention herein this article, I bought a monster generator, a 140 mph garage door and sealed the foundation of the house (like pyramid building slaves in the raging sun) with two hired hands. Action Jackson baby. You get in the fight.
Your back tightens from thoughts of 4-5 feet of water in your home. My entire back was like a rock. I had an hour during this storm prep where I was hit with the most oppressive feeling in many years. Something inside makes you feel dead, because in spite of faith you are still human. You make hotel reservations and get the last rooms in the state of Georgia. You pack the car full of the key papers, the electronics you need for work, turn off the water, cut the power, and leave your house with a sickened gut, utterly exhausted, distressed with a new experience and facing a 6.5 hour ride to the hotel. You pray and drive away. You look over your shoulder at all the hard work you have done and wonder what will be there upon return. A very poignant moment. The only thing that helps is that my wife and I know material things are not the summation or the importance of life, and our true treasure is not of this world. Plus you have to have flood insurance! We were part of the biggest evacuation in American history, but everyone must have left the day before us because (miracle again) we never ran into ANY traffic to GA. Incredible!
I don't book cheap accommodations and we wound up in a new fabulous hotel in Forsyth, a cool low key old civil war town with a charming square; a plantation nearby upon which they filmed the movie "Fried Green Tomatoes"; and the TWD horror show is filmed a half hour away. We were there 5 days in a nice room filled with distressed, depressed evacuees from both the NC and SC coast. The hotel manager was fabulous and dutiful, as were the staff.
Each night people would cluster around the upscale lobby living room to watch an NFL game, but mostly it showed the dire and salacious Weather Channel showing Hurricane Florence destroying the NC coast with wind and endless rains. I will always recall that horrified chain-smoking Wilmington couple, (kind of preppie corporate Gen Xers), and the looks on their faces as they left for home, certain that everything was gone for them.
However, there were many people of faith we spoke to that had the same good attitude that we embraced. The storms of life sometimes seem arbitrary affecting the good and bad among us, yet sometimes God moves us out of our place to experience life anew. Anytime God divests us of the material, it is so we become more spiritual in a return to Him. Truly, our lives are NOT our own, in spite of any modern notion.
My wife and I made the best of it all as she worked remotely (I took time off), and we toured the city by day, hitting all the fantastic restaurants and shops in town. Our keto diet lifestyle was put on hold for things like cookie butter cheesecake, chocolate cake, and a host of southern foods prepared in benchmark traditional fashion (pork dishes, Coca-Cola fried chicken, gravy dishes and fried okra and green tomatoes). The town square was truly a 19th century wonder with its architecture, brick courthouse, and the simple life layout of a time gone by. It was about as good a situation one could ask for in the circumstances. My wife was completely impressed with my score for hotel and town, but it was merely the Lord blessing us. We were so grateful.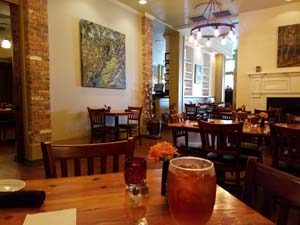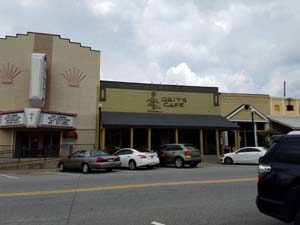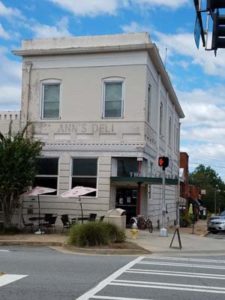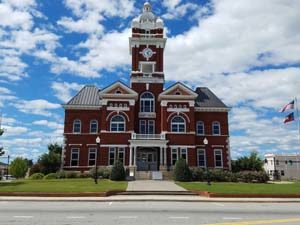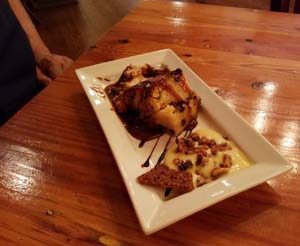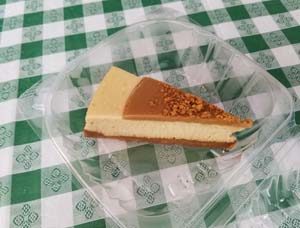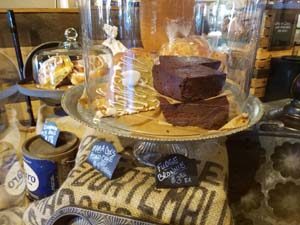 During these days, I befriended another man staying in the hotel, a harried medical machine sales rep on the corporate treadmill in his early 50s. We often talked poolside, and it turned out that he was suicidal. I had smelled it shortly before admission. Having a long history with such things I knew what had to be said. I get put in odd situations for God's purpose on occasion based upon personal history and one of my purposes. I often see victories for those that can listen. I was able to intervene and give him causation for continuing life. There were many reasons the Lord had booked this hotel. Each one of us has purpose to be fulfilled, whacking ourselves early is not one of those.
The evacuation ban for our home county was lifted and we headed back on a cloudy Sunday morning. Another miracle was that we never ran into any traffic until we got to town! By 3pm we arrived and the property looked exactly the same. We were elated. However, that evening a terrible storm began at the eighth hour that dumped nearly 5 inches on us in 2.5 hours before stopping. We were swamped with water throughout the area. The problem was that the ground saturation, ditches and ponds had met capacity for drainage. I noticed that the canal behind my house was about to breach and it had been another narrow miss. Miracles!
It was yet another storm cleanup for the property, something I had become used to since 2015. Now people had their eyes finally open here on the coast. It had been 30 years since Hurricane Hugo had decimated this area. Now the potential danger had returned multiple times since Oct 2015 (with that first Nikki Haley quoted "1000 year storm"). Within hours there were alligators cruising people's driveways, you had to watch for poisonous snakes, and mosquitos were 5x the size and in clouds.
During all these storms goods and services were somewhat limited, trucks could not restock stores fast enough. Gas was mostly flowing, but some places were out. People were fighting over generators and cords and the police were called to some places. There was some pretty creatively aggressive driving going on among the lower vibrations of society. You had to look around and be more careful. It made me think that if this country ever gets in a real crisis, it ain't gonna be pretty. Americans are the most aggressive people in the world in my knowledge. Most have many guns and are living on an ammo dump. Most of us grew up fist fighting when we got bored. Yes really.
Then came the terrible announcement that all the water from NC had to flow south through us to get to the Georgetown SC Winyah Bay to spit out the water into the Atlantic! Nothing like this had ever happened before, so the county merely told us we were in "uncharted waters" (no pun intended) for determinations of how bad the rivers would flood. One area just 10 minutes from my home was completely decimated by the river, it looks like a bomb went off.
Yet another miracle was that we got very minimal rains and God slowed the flow down (widely reported) to where the flooding overall was vastly lessened. They had no explanation for the slowing of the waters! Georgetown by all projections, was supposed to be utterly finished off with 8-12 feet in places, but there was only minor flooding. The people's prayers were heard. We all felt horrible for the North Carolinians and everyone knows it could have just as easily been us for landfall. However, this entire Hurricane Florence event for South Carolina tied up lives with apex stress and terror for 3 weeks! Epic event!
The county got millions diverted from another fund for mosquito spraying and you could hear the giant plane tankers coming buzzing over your home as you ran to turn off the AC, before the so-called "safe for humans" aerosol hit the palate with a sickening sweet and heavy metallic taste. Up, up, too late. In spite of this, we hoped things would settle down as we continued to keep an eye on the tropics, that usual and oh so painful ritual for September and October each year.
The dreaded news of Hurricane Michael hit the airwaves by the first week of October! By the 10th it made landfall in Florida close to a Category 4 storm and destroyed beaches in the Panhandle. It was destined to make a swoop right by Myrtle Beach, once again. We were exhausted, and like many people that had been through the hassle and expense of Florence evacuations, most people were not going to leave or go anywhere this time. People were emotionally drilled, and there is no tired like being emotionally drained. The summer had seemed like a mini-apocalypse to many, with bleary eyed people quoting prophetic scripture in grocery lines. On the 11th tropical storm Michael passed us at 55 mph with no rains. We had dodged another bullet. On the back of Michael came the most beautiful fall weather and people could only rejoice.
Yet many folks are over it, as they talk of global warming, the wrath of God, the end times, scalar electromagnetic warfare, chemtrailing, whatever this is, whatever is the causation, the danger is real. So people everywhere in America's "most affordable beach playground east of the Mississippi" are talking about moving out, selling their homes; while just as many or more from NC and the north have plans to move in. Nothing stops the 75% of Americans that want to live a glorious coastal life, or so it seems. For myself, I live in reality, I will never forget the training I received this summer, and it served to reinforce the notions of quick action, and not taking things for granted. I have been around long enough to know that when God shows gives you experience of this nature it is for good reason! Praise God.
And just before all this began in the summer, NASA sent an urgent report to Trump that they believe the worst winter in history is about to hit the U.S. Hmm… the snow is already hitting the Plains as I write…